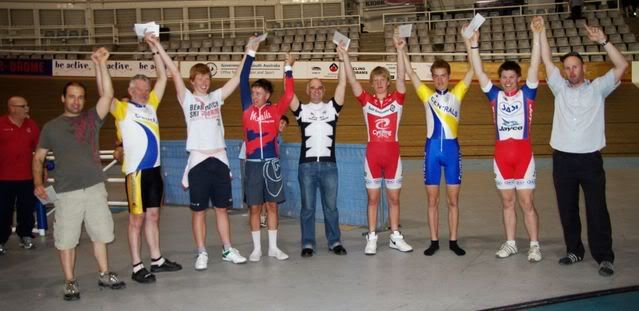 The inaugural
Trak Cycles Track Series
came to a conclusion last Wednesday night with the running of the final event – Teams. Every rider was randomly designated a Team Colour – Red, Blue & Green, with points from each race adding to the Team's total. The Blue Team got off to the best of starts with
Sam Croft
and
Scott Hallandal
taking out the Junior Team Sprint and followed up with
Mark Glowacki, Will Gower
and
James Glasspool
winning the Open Team Sprint.
The other main Team event of the night was the 80 lap Madison. It was fantastic to see 6 quality teams take to the boards and put on a skilful display of teamwork – slinging each other into the sprints every 10 laps at high speed. The Red Team dominated the event with
Dale Parker
and
Scott McPhee
combining to take first place, followed by
Damien Howson/Scott Benson
and
Tim Decker/Phil Mundy
, both combinations also from the Red Team.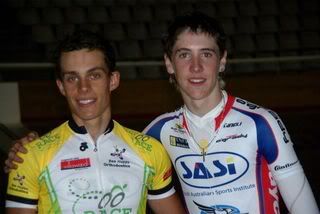 James Glasspool
dominated the final of the A-grade Keirin, coming from a long way back to overcome the fading
Ed Coad
in the finishing straight.
For the record the Blue Team amassed the most points for the night, followed by Green and finally the Red Team.
Overall, the Trak Cycles Series was dominated by
James Glasspool
, who competed in each of the 5 events and took home a decent swag of points each time.
Lachlan Hedley
was the standout of C-grade holding down 2nd place and earning a promotion into B-grade, with
Tom Morton
narrowly edging out
Mark Gregory
for 3rd.
Kyle Franson
was the best B-grader in 5th place.
In the Juniors,
Jai Angsuthasawit
and
Amery Frend
tied for 1st after the 5 events with
Carla Franson
grabbing 3rd.
Callum Scotson
and
Joshua Harrison
were the only other 2 Juniors to compete in all of the 5 events, finishing 4th and 5th respectively.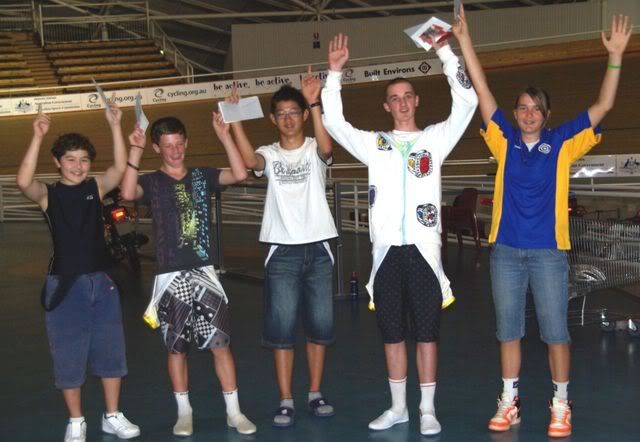 Click
HERE
for Team night results and overall consistency series points.
Thanks go to
Trak Cycles
and
GU
for their support of the series that saw 84 Open and 28 Juniors compete in at least 1 event. A big thanks to the multitude of volunteers that made the events possible. A lot of work has gone into making this series as dynamic and exciting as possible and hopefully it has shown that Track racing in SA has a bright future. PACC look forward to your continued support for their Track cycling events in the New Year, starting on 6 January.
the ideal number of bikes is one more than you currently have