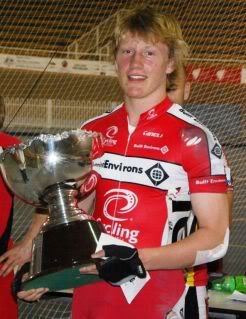 Tom Morton
from the South Coast Cycling Club, riding off 40m, just managed to ride over the top of the main group of front markers in the final straight of the John Lehman Wheelrace held at the Superdrome last night. The back markers rode well to bridge the gap to the front marker group but only Morton, a first year U/19, had enough in the legs for a final burst around the outside in the last half a lap to take the win.
It was no easy path to the 1250m final with 40 riders needing to compete in first round heats and a semi-final to get through to the 12-rider trophy race.
Lachlan Hedley
from Centrals riding off 180m and
PACC's Mark Gregory
off 170m held on to be the best of the front marker group, finishing in 2nd and 3rd respectively. Elated with his win, Tom had been involved in a nasty crash in the A-Grade Heartstarter earlier in the night but had escaped serious injury and was fortunate he was able to continue.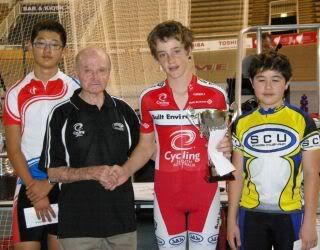 Controversy marred the inaugural Pud Brooks Wheelrace for Juniors, with 2nd across the line being disqualified for rolling out too big a gear, elevating 3rd and 4th into higher podium positions. However there was no doubt about the winner,
Callum Scotson from PACC
riding off 55m in the 3 lap race.
Jai Angsuthasawit
and
Jeone Park
placed 2nd and 3rd respectively.
Pud Brooks (OAM)
, PACC stalwart and a long time supporter of Juniors in this state, was on hand to present the trophy to the winner.
Videos of the night, including the finishes of some consolation races, are available here.
FULL RESULTS TO COME...
the ideal number of bikes is one more than you currently have