News from Russell
Dear All
Mostly going to plan. A few dramas with flat tires, carbon ready brake blocks and customs seizing spare parts! The racing is fantastic and the weather is good with racing in the morning and rain in the afternoons. The Philip Deverell Tubular Gluing Service is now open for business......
There are a number of Aussies and Kiwis here and the rumour is that the beer is good. One Euro for a long neck in the supermarket, one Queenslander was heard to remark that 'it's a shame I'm racing'.
Lynette and I had a great pairs husband and wife time trial this morning and even scored a podium finish! Third out of thirty, and we were among the few Internationals to score highly. Gemma, photo for you for the website. Lynette and I followed the sage advice of our coach and communicated constantly with only one slight fluff up...communication so much so that the riders that we were passing were less than impressed. 'Out of the way!'
Not so easy for me in yesterday's road race, 24 th and 7 mins off the pace in Masters Category 4 in a 96 km race with a nasty 12 % rise that was tackled with too much speed for my 84 kg. Good to see guys walking at the top even at this level! And to cap it off there was an 18% rise to the street level for the finish line!
More to follow soon.
Best regards to all
Russell and Lynette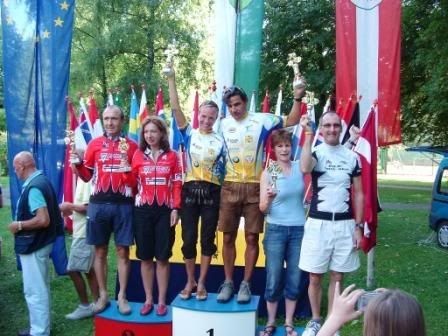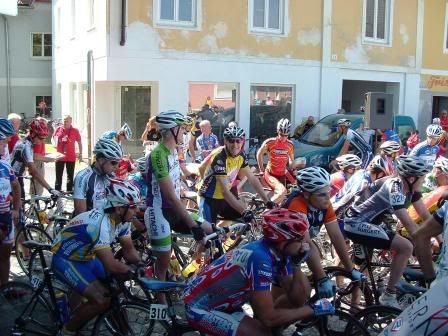 the ideal number of bikes is one more than you currently have