State Masters Games - April 2010
PORT PIRIE
Rageman is doing his own blog in his own time, but I thought I'd put some PACC racing pics up (well, mostly racing related)
The Masters Games had two days of track (wednesday/thursday) followed by TTs and Crits (Friday) and Sat was a road race but... meh! We weren't doing road races.
We travelled up on the tuesday night in the golden slug (my mum's yellow volvo station wagon) towing the PACC trailer with two friendly passengers - stabmaster and rageman. We shared a cabin, which was great as I got the queen bed with cable telly and a place to put all my things, and the other two could fart as much as they liked together in the 'kids room' which was so small it didn't fit any of their luggage.
There were a bunch of other PACCers up there too - Rob Pollard, Dean Semmler, Marky G, Kevin H.
Upon arriving at our cabin stabmaster made his views on doing the dishes, or even being seen in a kitchen, quite clear:
Things looked up the next morning when we got to the track bright and early. Stabmaster had realised his life's ambition by being awarded #1 on the track. Rageman was almost as excited by his newfound pair of number breasts: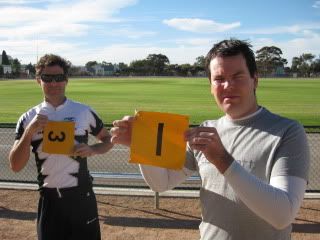 Port Pirie is a pan flat, 502m track around the Memorial Oval. Takes some getting used to actually.
The first day was largly time trials, (500m/1lap), pursuits, 200m etc. and there was a fair hot breeze making conditions tricky. They let road bikes on the the individual events, provided they didn't do anything naughty, like change gear. I felt sick everytime a road rider freewheeled across the finish line. They should be made to keep pedalling like everyone else.
Rageman blitzed the timed events and was "A for Awesome", but Marky G, whos reputation preceeded him with the Port Pirie Cycling Club as a 'track specialist' also put in some great times and finished ahead of Kevin, who was in the same age group.
Rob Pollard had not seen his cousin Noel for 45 years or so, and they were racing against each other for the first time since they were juniors. Of course with a story like this, the local paper was all over it and he wasn't charging enough for his story. Rob warned that his cousin was always faster....
The day's racing all went very quickly until we decided to walk to the presentation hall. That thirsty walk took about an hour. Lucky beer is cheaper than Subway(TM)post-mix coke, or water for that matter in Port Pirie. $10 for a round of 3 served with a smile.
At the presentations Rageman was A for Awesome;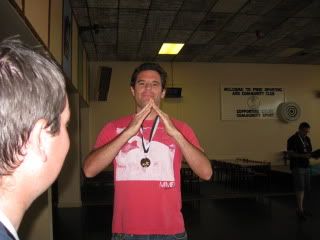 Uber-commissaire Mike Harnett also drinks beer. You can't hide behind that pillar, Mike: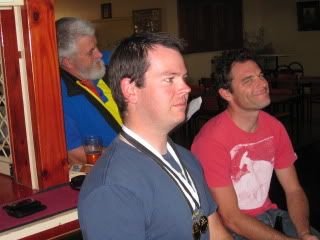 Marky G stoked with his first GOLD medal:
About a dozen beers, a steak, some games of pool and a sleep later, we were back at the track for the serious events. A warmer day, over 30Deg. Match Sprints & Scratch Races were the highlight.
Rageman and Stabmaster were drawn against each other in the best of three. Stabby upset the applecart by suprising rageman with a turn of speed and outdid him in the one round. Rageman naturally was enraged and then won the other two.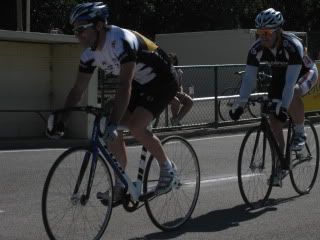 Rob again had to face off against Noel who had pipped him the day before: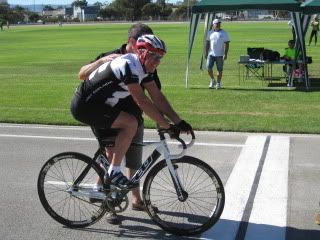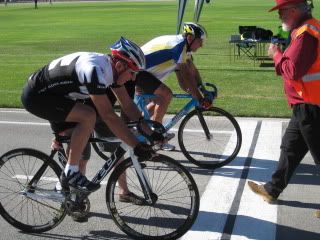 Noel was just too quick in the sprint, and left Rob muttering about "needing hills" and "wear him out somehow"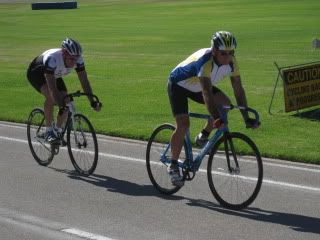 Race of the day was the Kevin/Marky G affair. After qualifying fastest, Marky G was up against Kevin in a best o' 3, winner to the gold medal ride off, loser back thru repechage.
The calm before the storm: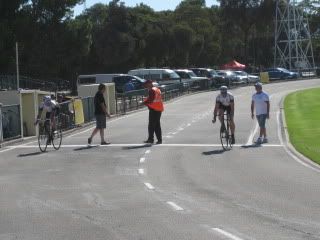 Marky trying some intimidation tactics had the grandstand "oohing"
Marky G went 1-0 up in a tight finish: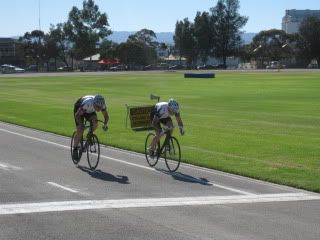 But Kevin wasn't done with yet. He won the next two by rolling Marky on the line. Marky had to go back through repechage to face Kevin in the final. Marky beat the other bloke 2-0 and had a little lie-down on the infield to recover.
What could only be described as an epic tactical battle ensued. Marky wanted a short sprint, yet Kevin wanted it to be a long drag race. Great to watch. Kevin won the final 2-1. There was not more than half a wheel betwen them in every finish. The crowd was going nuts (and I am not joking)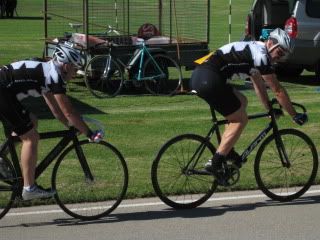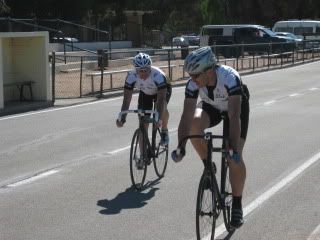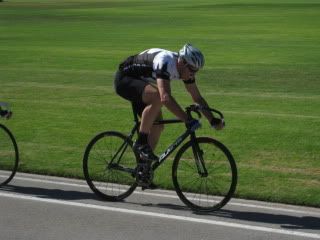 The PACC track crew (of 6 at this stage) were asked to put on a show of speed and precision by the Port Pirie CC club, for the crowd that had hung around. So we did a team time trial PACC vs PACC which must have looked pretty flash as 'they don't usually get to see racing of this standard in these parts', and the crowd did give us some applause for our efforts. Kain, Rob and me vs Marky, Kevin and Alex. Kain led us out for all the laps bar one, and we won.
At the presentation Marky did manage to 'smile' and congratulate Kevin on his epic sprint win: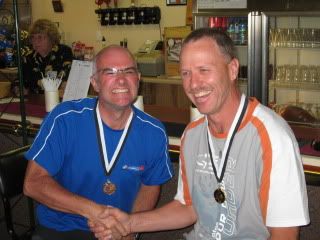 Alex was pretty happy with his overall performance: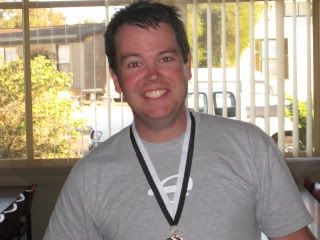 By then the effects of two days in the sun, combined with beer, were starting to surface. It was time for more beer, a schnitty, and then back to the cabin for time trial preparations for me. Preparations comprised of wondering whether I had packed a heart rate monitor strap or not, and if I had, where was the f*&king thing.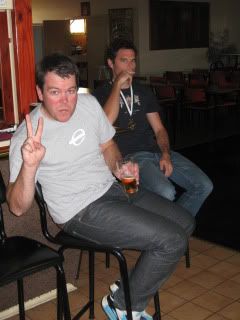 No one takes pictures of time trials, which is why I have none. The course was part of the "Tour of the North' course, pretty flat, and a dead road. The PACC contingent grew by one with TT specialist Craig Sheldon up for the just the one race. He set fastest time of the day.
The crits after lunch were on a fantastic rectangle circuit in an industrial estate. The roads were closed and the racing fast.
Former PACC president Doug "Dodgy" Parkyn raced with the women and other men 70+.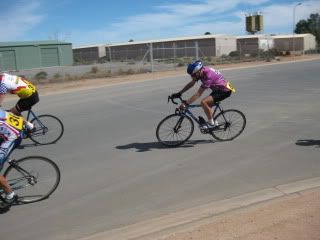 Rob lined up for the start in his age group, sadly cousin Noel didn't let him win despite it clearly being his turn! Mutterings of "bridesmaid" were heard:
Mildura-Coomealla had sent a large contingent down. And this bloke Phil with the beard was bloody quick on a bike. His beard would get a bit of a part in it which was impressive but not captured on film.
Marky, Kevin, Alex and Kain were all put in together with some others in what was the fastest race of the day. Kain and Kevin got a break on the rest of the field with a few others.
Marky was caught inbetween the break and the main bunch, so a bit of coaching from the back corner had him drop back to help Alex out. Alex had someone in his age group who was just off the back, but looking like he might rejoin.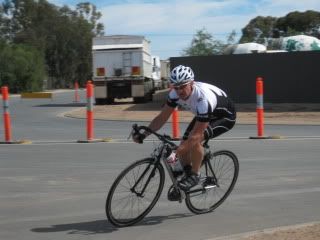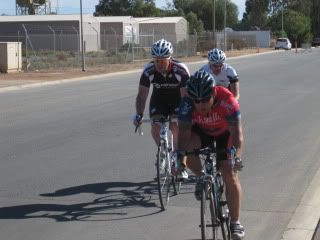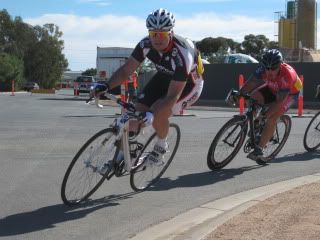 My this time Kevin had been dropped by the two leaders and was mashing a huge gear around inbetween bunches. Kain and the 'other bloke' were starting to muck about... other bloke clearly wanted a sprint so Kain worked to get rid of him.
Meanwhile Stabmaster tried to keep his most euro composure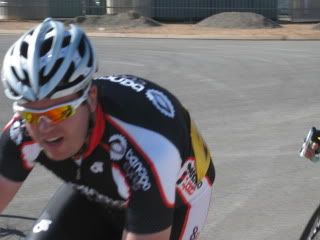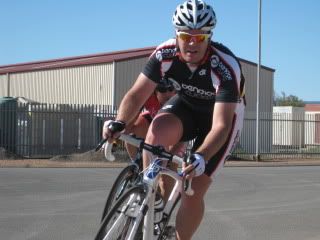 The main field were given the bell early to clear the track for what could have turned into a match sprint between rageman and the other bloke. Kevin was exasperated as he had to mash his way around for a few extra laps.
Bloke in black had a good turn of speed and rolled Kain in a 2-up sprint for the outright win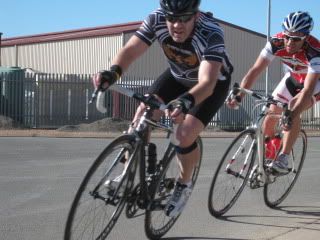 Overall a great couple of days racing, the beers were cheap, the weather was nice, the racing serious but fun, the beers were cheap, the RSL was interesting , the beers cheap,and a great bunch of people of all ages came from all over Aust for a hit-out, and a beer. I would highly recommend such a trip for anyone in the 30+ age bracket who likes racing, large schnitzels and beers. The Port Pirie CC blokes, Peter Smale particularly, were great - hopefully we can get some PACC people up for the Tour of the North this year. 3 July 2010 is the race date...
the ideal number of bikes is one more than you currently have